Basic plumbing tips are the key to a successful renter or homeowner. Let's face it, plumbing disasters can occur anytime and generally they happen without a warning.
Preparation on what to happen can lessen the apprehension. It is difficult to predict when and where a plumbing issue can happen. So from a leaking faucet to a leaking water heater, here are some of the tips that a homeowner should know:
Toilet Ghost Flushing
Did you notice your toilet spontaneously refills? It seems like someone is flushing it. if yes, then your toilet is experiencing a problem called phantom flushing caused by a slow leak from the tank. This needs to be checked by a plumber. 
If this case happens, this has something to do with a broken flapper. To get this fixed, you need to manually drain the water. If this still doesn't fix the issue, then you have to replace your toilet flapper.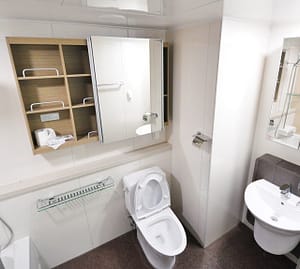 Leaking toilet tank
A hissing sound coming from your toilet is caused by a toilet tank leak. The water drips into the tank via the supply line. This leak can lead to an incredible loss of water if left undetected.
Leaking Faucets
Even small leaks in the faucet can have a big impact. It can cause wasting of 3 gallons of water per day. Such a major water wastage.
Leaking Water Heater
A leaking water heater can lead to major problems. If water leaks pool at the bottom, it is a serious indication of tank failure. The leak from the temperature and pressure relief valve can lead to overheating and too much pressure from the tank. A major problem can occur if the problem is unresolved.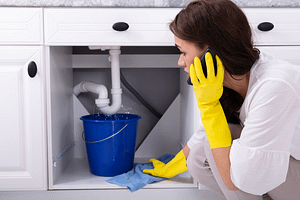 Clogged Toilets and Sinks
If you noticed water backing up after you flush, then your sewer line is absolutely clogged. The water can't go down the drain. This needs fixing.
It is really difficult to predict these types of plumbing emergencies. But here are the basic things that you can do to get through a difficult circumstance.
Shut off the water source 
It is important for any homeowner to know where to turn off the water source when an emergency arises. This will help stop the water flow in the event of burst pipe or leaks.
Call an emergency plumber 
After trying your best and things still didn't work out, your bet is to reach out a plumber. There are plumbers who offer 24-hour emergency plumbing services.
Find a temporary solution 
While waiting for the permanent fix from a plumber, find a temporary solution to control the leak. If you have already shut off the water source and the leak still persists, you may want to seal the leak so you can turn back on the water source.
No need to panic when the plumbing issue pops up. Whether it's a clogged drain, broken pipe, a leaking toilet or faucet, we got you covered. Don't hesitate to reach out to us to take care of your plumbing problem.