Burst pipes are one of the most difficult problems that homeowners have to face every year. This is the last thing that anybody wants to tackle. The culprits for this are believed to be the freezing conditions, wear and tear or misuse.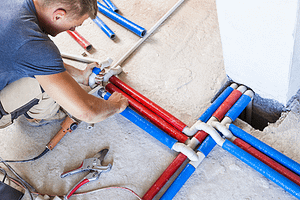 While this is the most chaotic plumbing issue, below are the quick steps you can do to slow down the impact of a burst pipe.  
Turn off the water source.
When water freezes, it expands to 9.80%. As it expands, it puts pressure on the pipes and finds a weak spot on the pipe. So, depending on the size of the leak and where it is, you might need to shut off water and electricity.  
Let the water flow in the faucets.
Release the remaining pressure in the pipes by opening the faucets.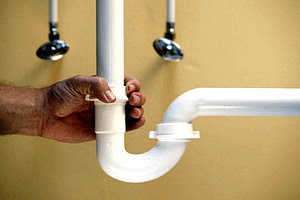 Call for help.
If your DIY plumbing skills fail, you need to find a professional plumber ASAP to minimize the effect of a burst pipe.  
Clean up after a burst pipe.
Get rid of the water as possible. This will prevent the occurrence of water damage.  
Turn on the heat source.  
Set up fans to blow heat into the cold rooms. Keep the faucet flowing and heat up the pipes to melt the ice.   
Open your doors.
As mentioned earlier, leave your doors open if you have pipes inside the closet to warm them up.  
Cover the leaks with rubbers.
Rubbers will serve as a clamp to the leak. Take note that this is just a temporary solution to the problem.  
Add a wooden bar to leaks.
A piece of wood prevents the pipes from collapsing. You can add the wooden bar on top of your rubber clamp to stop the water leak.  
Use a C-Clamp.
This tool can be used as a temporary fix while waiting for the plumber to arrive. This works by sealing the leak.  
Cut the damaged pipe.
You can remove the broken section of the pipe by cutting it using a saw.  
Clean the inside of the pipe.
Remove rust and corrosions in the pipe by cleaning it using a wire fitting brush.  
Connect the repaired pipe sleeve.
Slide the two cut portions of the pipes once the primer has dried.  Then slip it back over onto the other.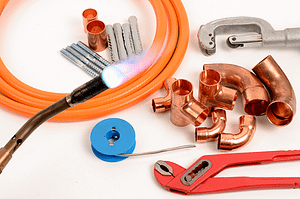 Solder them together.
Join the non-damaged pipes by soldering them together. This is done after cleaning and fluxing of the pipes.  
Insulate the pipes.
Insulation helps prevent the future occurrence of burst pipes.  
Clean the damage.
Do your best to clean water as much as possible to prevent water damage and mold growth.